Our Downtown Kelowna store is filled with fun collectibles and unique treasures from the past. We are constantly adding to our inventory and it would be impossible to add everything to this site, but this list should give you a good idea of the types of items we carry.
To find out more about our other services,
please go to Services Page
" Things of Quality Have

No Fear of Time "

unknown
Artworks
We specialize in selling original oil, acrylic and watercolor paintings by local artists as well as by the old European masters. We also carry a wide assortment of etchings and limited edition prints from various regions.
Jewelry
Our always expanding assortment of estate jewelry includes everything from Victorian brooches to Swarovski crystal necklaces. We have quality fine gold and sterling silver jewelry from various eras as well as fun costume jewelry for every occasion.
Watches
We regularly carry a range of ladies and men's watches. You can typically find here some highly collectible vintage Rolex, Cartier or Omega watch. We usually also have pocket watches from brands like Waltham, Elgin or Longines.
Porcelain & Glassware
We typically have a wide assortment of vintage china dinnerware sets and pieces. You can find here English & French fine bone china made by Royal Crown Derby, Paragon, Royal Albert, Belleek, Shelley, Limoges and other. We also carry art glass collection consisting of art-deco hand-blown vases, carnival glass, milk glass, cranberry glass and more.
Vintage Kitchenware
We carry vintage kitchen décor including Pyrex and Fireking wares, small vintage kitchen tools, and a large assortment of vintage kitchen utensils.
Coins & Memorabilia
We buy and sell military memorabilia; from swords to uniforms, to medals, and much more! We also sell world coins and currency.
Mid-Century Modern
We typically carry vintage radio's and cameras from the 1950's and 1960's, as well as unique mid-century vases, mid-century dinnerware, and those iconic mid-century modern lamps. These items go quickly, so be sure to check back for new additions.
Furniture
We carry smaller antique furniture pieces including antique desks, occasional chairs and armchairs, antique china cabinets, antique display cabinets, antique office furniture, occasional tables and more. So give us a call if you are looking for anything from an antique vanity to a dining table.
Old Radios and Camera
We typically have dozens of antique and vintage radios and cameras in stock! Our inventory includes table-top wood-cased radios, Bakelite radios, 1950's and 1960's tabletop radios, Nordmende radios, and more. We usually also have old Kodak, Polaroid or Laica Cameras.
Native American Collectibles
We have a small collection of Native Canadian collectibles including: Salish baskets, First Nation's artworks and prints, Inuit carvings and Indigenous beadwork.
Other Collectibles
We carry a wide assortment of collectibles from vintage advertising signs, to old typewriters, records, magazines, porcelain figurines, Asian collectibles, nautical antiques, antique instruments, oil lamps, old books and maps, vintage toys and more.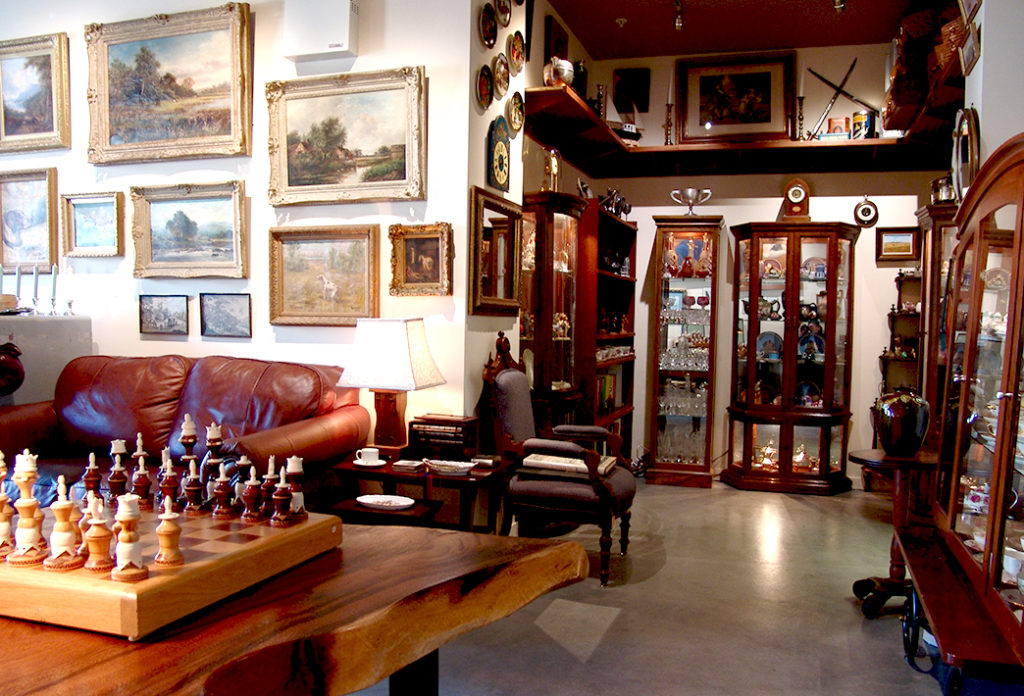 Stay Connected!